Saturday 8th February, 10:00 am to 4:00 pm at Creative Space, Matlock, Derbyshire, DE4 2JG
at Creative Space Studio
This Workshop ran last year and proved very popular so ….by popular demand Here it is again for
2020
What is Creative Journaling?  Why do it?  How would Creative Journaling help me?
All very good questions !!  Interested in finding out ?
Maybe you've heard about Creative Journaling but you're not sure what it is ?
Keep reading………
      " My Creative Journal is a place where I learn to listen: what do I need? what does my heart long for? who are my people? where are my tribe? what do I want to do next? what/who inspires me? what would nourish me right now?
         Its where my healing unfolds, where all of my desires emerge, where all of my dreams take root, where my creative ideas reveal themselves.  Its a private creative space where I find alignment, where I connect and keep re-connecting with my Higher Purpose."
A creative sketchbook or journal is so many things.  A place for thoughts, ideas & dreams, fantasies and fears.  A place for self expression, exploration and self discovery. Its a place where there is space and freedom for transformation, for magical & mystical happenings.
Why do I keep a creative journal..….?    To keep alive the search for me, for self discovery & self expression.  For me, Creative journaling is a magical process of Alchemy
ALCHEMY……
defined as the PROCESS of taking something ordinary
and turning it into something extraordinary, often in
a way that cannot be explained
While I don't think of myself as an 'Artist', I now allow myself to think of myself as 'Creative' and that creativity is crying out to be expressed !  I love to experiment & play with 'art' materials but I'm not trying to make 'Art'.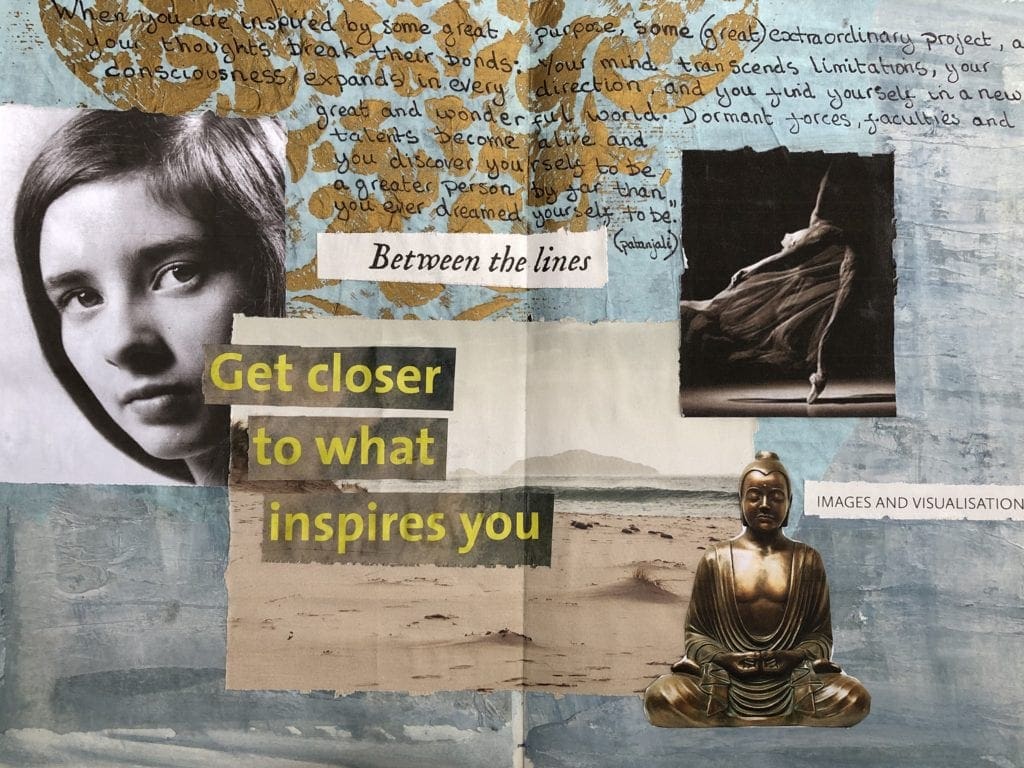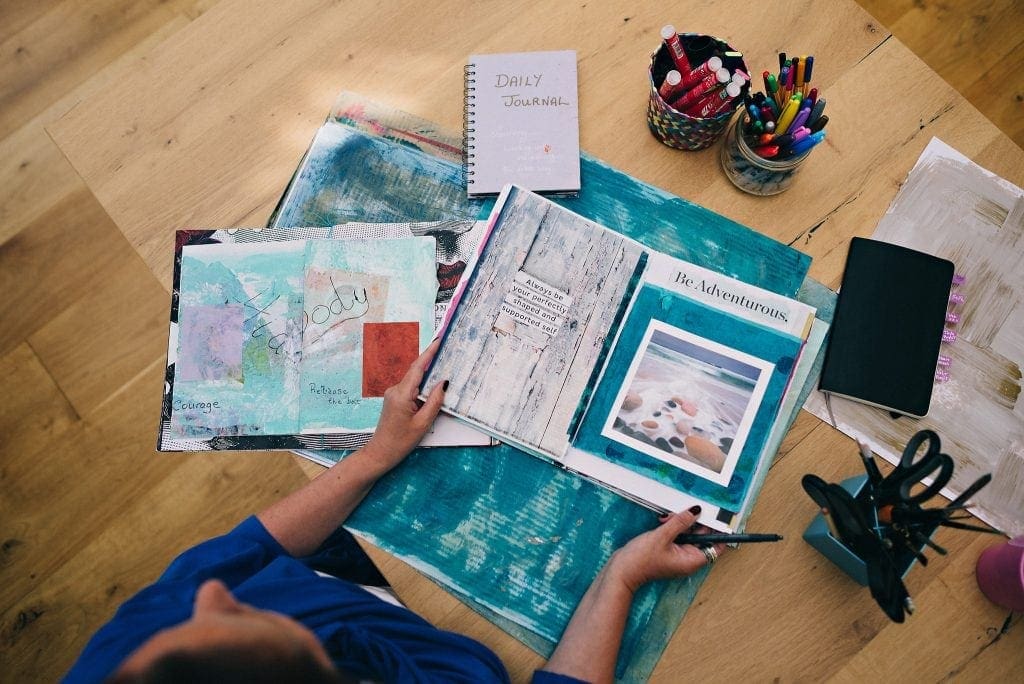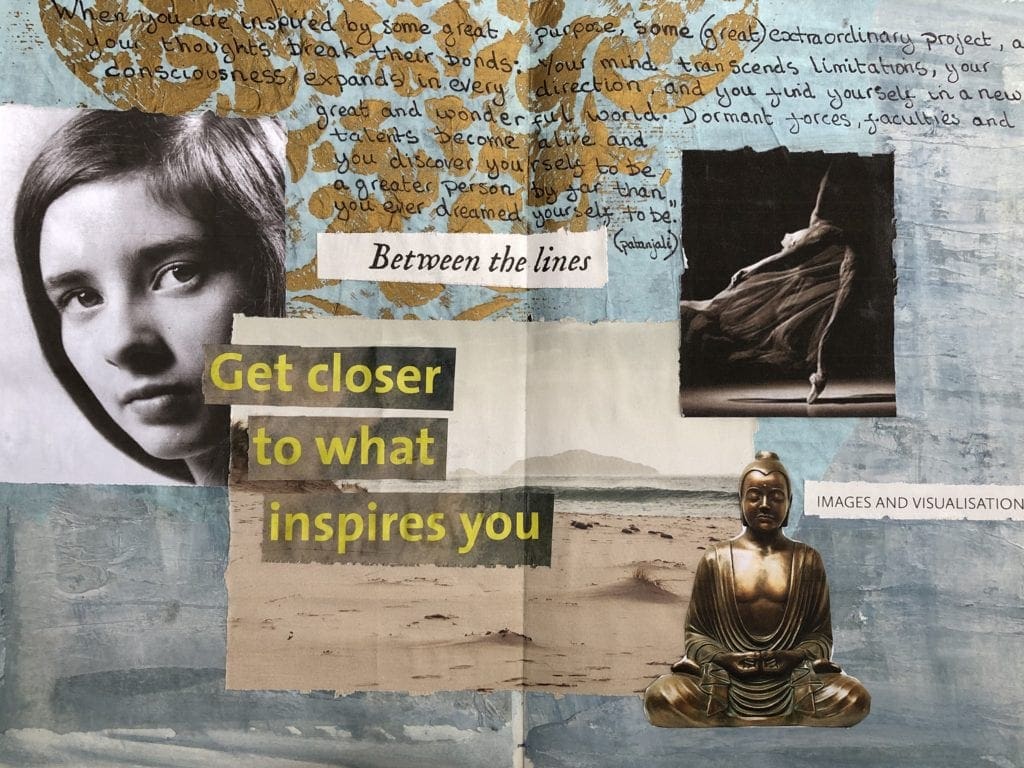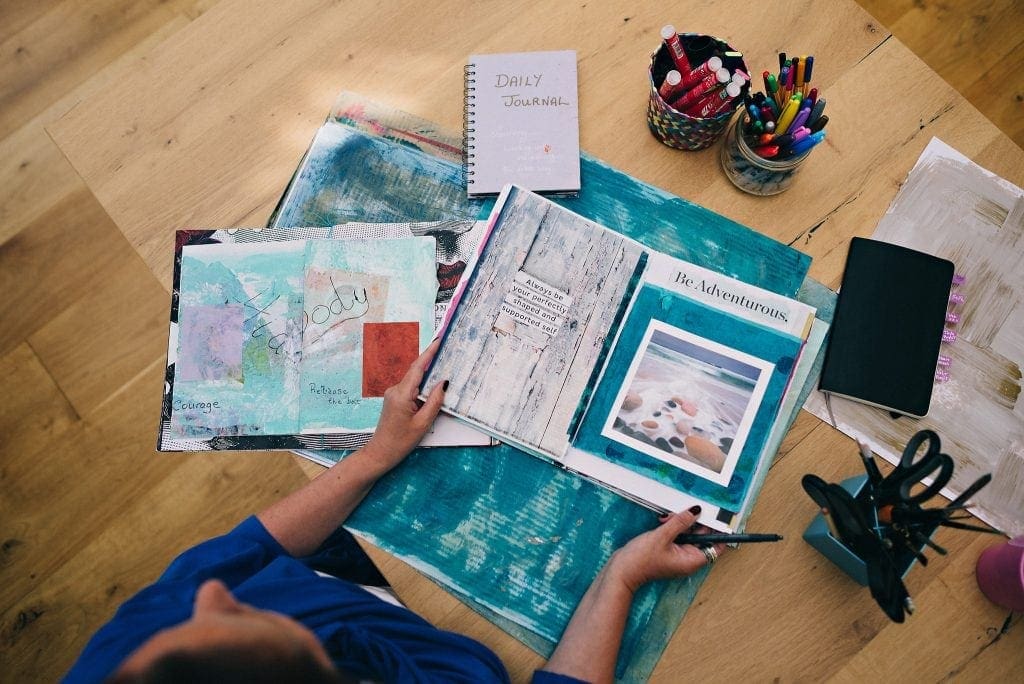 This workshop is for you if you
are looking for a creative outlet for your ideas

are wanting to express yourself creatively

are seeking a way of processing feelings & emotions

are looking for motivation & inspiration in any area of your life

want to embrace & express who you really are

would like to explore a different tool for connecting with your creative voice

would like to connect with like minded people

want to unlock your creative potential
If you have previously taken part in one of my free 30 Day Journal project, this workshop might feel like a natural 'next step' on your Journaling Journey
Friends came to share an experience in creative journaling last year
What will we be doing ?
During the day you will be guided through an exploration of your creative ideas & dreams, using simple & easily accessible art materials.  As we work & play we will talk about all the different ideas we have about how we might use a Creative Journal to help us on our journey.  I can share with you some of my own experiences of creative journaling, how it has helped me to explore my own ideas and start to make some of my dreams take shape.
If you've ever tried creating anything new, a new journal,  writing a book/poem/song, a painting or picture you'll know that the Blank Page can feel like a formidable place
The Blank Page is a Vulnerable Place
but
It is also a Totally Accepting & Creative place  
If you're undecided about whether this workshop sounds like its right for you, right now, take a minute to notice the PUSH -PULL of the opposites of the emotional dialogue going on
FEAR – POSSIBILITY
ANXIETY – OPPORTUNITY
STUCKNESS – LIBERTY
Allow yourself the opportunity to learn what you are capable of (or at least start the journey).
When you sign up for the workshop, you will be sent more information about the day with suggestions about things you might like to bring in order to get the most out of your day.
All basic supplies will be provided, paint, pens, paper, glue etc.  The things you bring will make the day & your experience much more personal & individual.
This workshop will be taking place in my own small but beautifully formed Creative Space Studio in Derbyshire.  I am incredibly fortunate to live in beautiful surroundings with wonderful views of the Derwent Valley and it was always my intention once I took the leap of faith to create the studio. to share it with you my fellow creative seekers.
If weather permits we can take full advantage of the location to work, play & experiment outside to enjoy the wonderful surroundings.
There are 5 places available for the day from 10am until 4pm
Your investment for the day will be £55.00 which will include all materials & resources and morning & afternoon refreshments.  Please bring something for your lunch.
For anyone wishing to attend who doesn't live locally, accommodation MAY be available by separate negotiation. Please contact me to discuss.
IN ORDER TO SECURE YOUR PLACE PLEASE make your payment via my PAYPAL LINK I will then send you a confirmation email.  Alternatively you may pay via Bank Transfer or cheque (Contact me for details) Unfortunately I am unable to reserve your place until I have received payment.
You can CONTACT ME HERE if you would like any more information or have any questions