Hi and welcome.  Thanks so much for checking out this page

Below you'll find a brief summary of the direction my journey has taken me so far.  Dates might be a bit vague…but then that's how I am with dates.
"In order to become who we are meant to be we must first let go of who we think we are"
1960
Born
Middle of three children
Midlands UK
1971 – 1976
Attended comprehensive school
Lived with undiagnosed epilepsy
Left school during the heat wave of 1976 with few 'qualifications'
However, achieved pretty awesome grades in all of my dance exams
1976
Parents separated
I left home and moved to London
1977 – 1980
Mixture of 'live-in' work and office work
Held my breath for 3 years
1980 – 1984
Moved back to the Midlands
Formative period of debilitating depression & anxiety
1984 – 1089
A period of clawing my way back to life one step at a time
'worked' as a volunteer
Studied with the Open University
Various work for the Local Authority & Probation Service
1989 – 1991
Full time student
Cert. of Qualification in Social Work
1991 – 2000
Child Protection Social Worker
Child & Family Therapist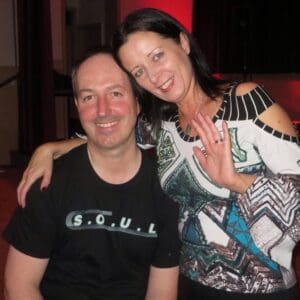 1995
Married my soulmate Alex
2003
Moved to South Wales
Discovered Yoga
2008 – 2011
Studied Yoga formally at Mandala Yoga Ashram… Ongoing
Returned to Derbyshire
Taught Yoga until 2019
2016 – 2019
Discovered the work of Lisa Sonora and Creative Journaling
Studied her classes on line
Travelled to Mexico to attend workshop  'Creative Pathways to your Purpose & Power' with Lisa Sonora Aaron Zimmerman & Emily Trinkaus
Completed Lisa's Facilitator Training Programme
Well that's about it, or me, in summary…so far
You're just about up to speed with the 'big stuff'
I enjoy simple bookbinding projects, making notebooks, journals and sketchbooks CHECK OUT MY LATEST OFFERINGS IN THE SHOP
I still teach the occasional dance class (I plan to start new classes of Bachata in January 2022) just to make sure my old bones don't seize up completely !
I journal, read and love to discover inspiring teachers & like-minded creative souls
I am a (beginner level) but keen sewer
I play with paint, colour, paper and collage.  I am an avid collector of beautiful and unusual paper &  recycle as much as I can
I've run a free Journaling Project for the past three years (access these on the FREE STUFF PAGE)
Before Covid struck I had begun to dip my toe into running and hosting 'in person' workshops.
More changes are in the wind….with an overhaul of this website due for March time 2022 which I'm hoping will make it more interactive with
Monthly Journaling Prompts
Links to relevant/useful resources
Downloads
Reviews of Books/Podcasts etc
Have you read my e-book yet ?  'Creative Journaling… A creative practice to harness your purpose and potential'