Hi and welcome.  Thanks so much for checking out this page
Below you'll find a bit about the driving forces behind this website & myself as well as a rough summary of the direction my journey has taken me so far.
I believe that at the Heart of us, at our 'core', is the desire, the need to find purpose, meaning and fulfilment in our lives
and I believe that, that purpose, meaning and fulfilment is unique to each one of us.
Image: from my journal
Be not afraid of absurdity; do not shrink from the fantastic.  Within a dilemma, choose the most unheard of, the most dangerous solution.  Be brave. Be brave
Isak Dinesen
I believe that not knowing where we're heading when we set out on our own personal journey of exploration & discovery of our own unique potential, is a brave and courageous act that requires & deserves support and encouragement
I believe we are all on our own individual path of evolution that cannot adequately be identified or measured by goals, 'achievements' or 'productivity'
We all have our own individual story to navigate, live, experience and to tell and that we should all get to be the author of our own story
Journaling is where we plant seeds, where we nurture and grown our understanding of who we are and how we are meant to show up in this lifetime
It's where we harvest the wisdom of our experience and understanding and pursue our ideas, dreams and aspirations
"In order to become who we are meant to be we must first let go of who we think we are
Tasha Blank
Me
1960
Born
Middle of three children
Midlands UK
1971 – 1976
Attended comprehensive school
Lived with undiagnosed epilepsy
Left school during the heat wave of 1976 with few 'qualifications'
However… achieved pretty awesome grades in all of my dance exams !
1976
Parents separated
I left home and moved to London
1977 – 1980
Mixture of 'live-in' work and office work
Held my breath for 3 years
1980 – 1984
Moved back to the Midlands
Formative period of debilitating depression & anxiety
1984 – 1089
A period of clawing my way back to life one step at a time
'worked' as a volunteer
Studied with the Open University
Various work for the Local Authority & Probation Service
1989 – 1991
Full time student
CCETSW Cert. of Qualification in Social Work
1991 – 2000
Child Protection Social Worker
Child & Family Therapist
1995
Married my soulmate Alex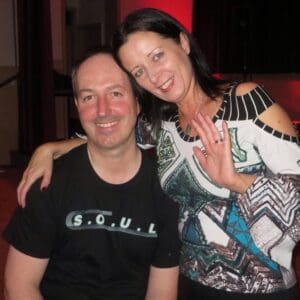 2003
Moved to South Wales
Discovered Yoga
2008 – 2011
Studied Yoga  at Mandala Yoga Ashram
The British Wheel of Yoga Accredited Teaching Diploma
Mandala Yoga Ashram Yoga Teaching Training Certificate
Returned to Derbyshire
Taught Yoga until 2019
2016 – 2019
Discovered the work of Lisa Sonora and Creative Journaling
Studied her classes on line
Travelled to Mexico to attend workshop  'Creative Pathways to your Purpose & Power' with Lisa Sonora, Aaron Zimmerman & Emily Trinkaus
Completed Lisa Sonora's Facilitator Training Programme
June 2023
Amherst Writers and Artists Certified Affiliate & Workshop Facilitator 
Well that's about it, or me, in summary…so far
(the journey continues….)
but you're just about up to speed with the 'big stuff'
I enjoy simple bookbinding projects, making notebooks, journals and sketchbooks CHECK OUT MY LATEST OFFERINGS IN THE SHOP
I am currently teaching Bachata dance classes, on the last Monday of each month in association with Lee Hunter & Absolute Salsa
I journal, read and love to discover inspiring teachers & like-minded creative souls
I am a (beginner level) but keen sewer
I play with paint, colour, paper and collage.  I am an avid collector of beautiful and unusual paper &  recycle as much as I can
I have run a free Journaling Project for the past three years (access these on the FREE STUFF PAGE)
I now offer weekly "Quotes" as prompts to inspire and offer jumping off places for journaling.  You can find these over on my Quotes Page
I also post them on my social media platforms …
Have you read my e-book yet ?  'Creative Journaling… A creative practice to harness your purpose and potential'